Bit of a whirlwind recently, energy levels have been all over the place, as have I.
What I've Been Doing
Decided I need to bounce ideas and learn off people rather than being stuck in my own bubble. So sent out some requests to chat and dropped a few private messages around like glitter. Thus resulted in some lovely, and very useful chats with Chris, Giuseppe, Bruno, Dan, Michael and Bronwyn. Each chat was a unique opportunity to ask questions, describe what I'm doing, chisel out thoughts, learn a bunch of new stuff, and meet some great, passionate people.

Spent a day "floating", which is a deliberate thing of getting away from stringent to-do lists and daily aims, and letting curiosity and synchronicity kick in for a bit. I checked out the new Brighton Business & IP Centre at Jubilee Library and bumped into Bruno (mentioned above). I discovered Afrori Bookshop and will have to return once my reading pile is more manageable. I rethinked (it's a word, I'm sure) my ideas after getting a bit 🤨 about them, and then rethunk them again after chatting to people. I'm pivoting faster than a Cabinet media release.

(…I had a moment where I thought it would be great to abandon my vice-like attention on evidence for sustainable technology, and instead work more liberally on helping people to embed their values into their technology. "You value learning and innovation, great – how about these metrics, tracked using these processes, and reviewed along these lines?" sorta thing. Sustainability is kind of a subset of that, but on reflection, it's probably a good idea to stick with something I' can describe I'm still narrowing down rather than opening up.)

… But out of all of that, I think I have a good idea of where I can "fit in" personally, in the "scene" I'm currently exploring – that is, a bunch of people are interested in making (and selling) easier ways to assess whether sites could be greener and more efficient. I think there's a role to really bring those ideas – that movement together as a standard (either a standard offering, or a Standard standard) and to organise the evidence and data around it. And to link everything together. I'm excited about that group aspect to it all.
I also did some more work to carry on automating Lighthouse reports for a webpage. I took out a bunch of code I wasn't needing, and added multiple runs, for both desktop and mobile view, so that you now get something like the below. Some pages do return quite different results for each page load, so the next important step is to get some sort of average figure. (Overall score can be affected a lot by local network and CPU activity, so I've started to ignore these.)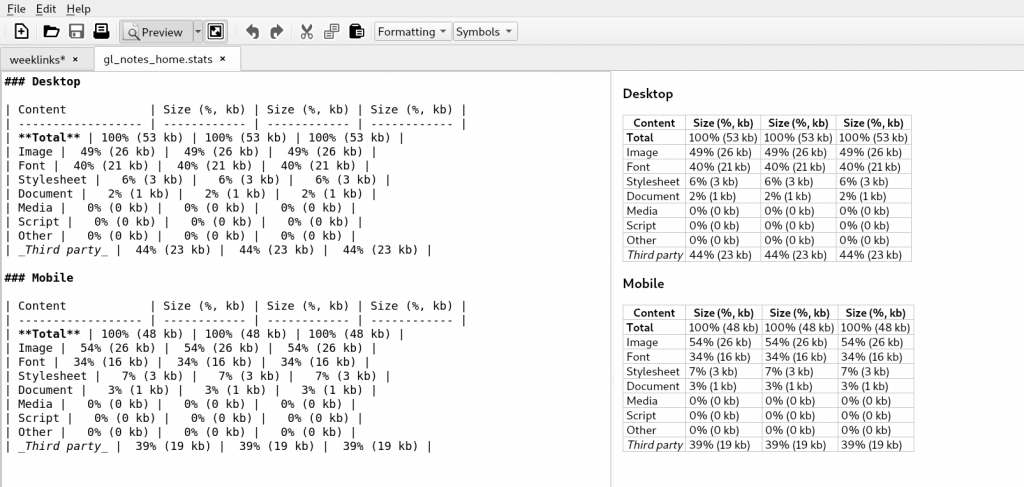 Set up a Hugo blog just to try it out, and an 11ty site for nicely styled notebooks, after deciding to get to grips with some of those natty static site generators out there. Both were fairly straightforward, although I had to hack 11ty around as I wanted to tie it in with my existing Markdown-via-syncthing setup. Think I need to upgrade my Raspberry Pi to complete the chain. The old notebook site suddenly looks pretty basic 🙂

I've been thinking about some event risk assessment processes for the local Environmental Alliance charity, and trying to do some joining-the-people-dots.

I've also been "called up" to do a bit more work on a project I was doing back at the start of November. It's always a good test of your own code structure to forget about something for a few weeks and then see how easy it is to pick it up later. In this case, it was fine, although I should probably have documented my design ideas, to-dos and caveats more. My design has stood up to the next tricky implementation test fairly well, with just a few small tweaks, and I've been figuring out how to make styling changes neatly when the stack is split between PHP, browser, and SASS. That'll carry over into next year for a few days, but not enough to distract from doing my own thing, I hope…
How I've Been Feeling
I probably do have a little too much going on, but I've been feeling okay with it for the most part. I'm enjoying the flexibility, and really enjoying getting to meet new people finally – I do wish I'd started doing that earlier, but also glad I've got Real Things to show people and a bunch more know-how to bring to conversations.
In short, I'm feeling … confident about what I'm talking about, rather than just passionate. I'm starting to see – in my gut (where all the good thinking happens) – how things (information, efforts, people) are fitting together, and all the intricacies that make one an annoying "expert" with never a simple solution to offer.
I've really found it nice to get out of the house – either to get into Brighton, or just nipping in the car up the road, to do some work/thinking with the rolling hills of the downs in front of me. I pack a coffee, a snack, use my phone as an internet hotspot, and make sure I have a bit of battery life. Then I head off early, after the school run, and just clear things out.
Clearing things out is definitely a running theme. My to-do lists have been getting lengthy recently, with some tasks hanging over me. TBH, that makes me pretty grumpy, knowing that there are things I should get on with but that I don't get much reward from – at least not instantly. I should keep a better eye on those things building up, as I definitely feel so much better once I've just got them off my radar. Same with emails.
My energy levels have been mostly affected by how much my sleep gets disturbed, to be honest. Finding it tough to get on with things when I'm groggy, and I've been glad I've been able to roll with that a bit. But it's frustrating when you wanted to get on with something, but don't have the energy for it.
New Year Revolution
Talking of cleaning out emails, I've had an idea. Presenting Unsubscribe 2021, a festive ritual to restore email energies.
Weeklinks